History and Archaeology of Bressay. Summer 2022. Saturday walks.
EVERY SATU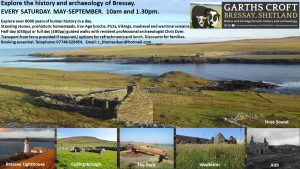 RDAY. MAY-SEPTEMBER. 10am and 1.30pm.
Explore over 6000 years of human history in a day.
Standing stones, prehistoric homesteads, Iron Age brochs, Picts, Vikings, medieval and wartime remains.
Half day (£50pp) or full day (£80pp) guided walks with resident professional archaeologist Chris Dyer.
Transport from ferry provided if required / options for refreshments and lunch. Discounts for families.
Booking essential. Telephone: 07748 926454.   Email: c_thomasdyer@hotmail.com
***This activity is available at other times by reservation, please get in touch to arrange.